Wacky Wednesday! And a Wacky Wednesday it was! We had a two-hour delay this morning, and not the kind of "snuggle up in bed and drink hot chocolate because it's snowing" kind of two-hour delay. It was a "OMG! I'm going to die because their is a tornado warning, and it sounds like a train is coming through my living room" kind of two-hour delay. The tornado missed my neck of the woods, but there was a touchdown nearby that did some damage.
I was a little bummed about the delay today because we didn't have reading groups, and I had some really cool rhyming activities planned, thanks to Rachelle @
What the Teacher Wants
. She has created an AWESOME Dr. Seuss unit full of fun literacy and math activities!
Find it on Rachelle's TPT
here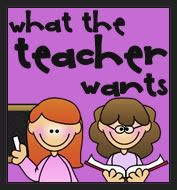 Check out Rachelle's blog
here
Since today was Wacky Wednesday, everyone in Kindergarten was supposed to dress "crazy" (clothes backwards, inside out, mis-matched, etc.). I did not particpate in this because.....well I just had NO idea what to wear! Shouldn't be that hard right? I mean it is CRAZY day, I can wear whatever! I just couldn't stand the thought of wearing clothes that didn't match! But I did wear my new shoes, which I have to say are pretty awesome!
Converse
makes this super cute Dr. Seuss shoes! Mine are from
The Lorax
, but they have all different kinds from all different books! I love love love them!
Despite all the craziness this morning, it turned out to be a beautiful day! Check back tomorrow for more!