I got tagged, and I didn't even know it! Good thing I was catching up on my reading last night, blog reading that is, because I noticed that Amy @
The Crazy Adventures of a University Grad
had tagged me in her post! I love Amy's blog! She is also a recent college grad who is looking for a full-time teaching job...and a new blogger. I feel like we can be friends! You should definitely check out her blog!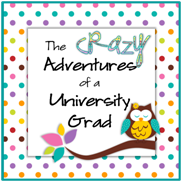 Here are the questions she asked me:
1. If you could live anywhere where would it be and why?


If I could live anywhere.....that's a hard one. How about Napa Valley!?! Surrounded by vineyards! Sounds good to me!
2. What is you favorite thing to do on a Sunday afternoon?


Watch Food Network! Food Network always has the best shows on Sunday, and it has been a ritual of mine to lay around and watch cooking shows all Sunday long. It call it "Food Network Sunday"!

3. What is the best book you've ever read and why?


Hmmm this is a tough one. I think I'm going to have to go with the Harry Potter Series. I am a huge Harry Potter fan and I love ALL of the books! They are so suspensful...I have read them all at least twice. Some of them I have read up to four times! Although I have to say, The Hunger Games Series came to a close second!

4. What is your favorite classroom book and why?


Junie B. Jones hands down! I love to read Junie B. out loud to my kids. They love it, and those books are so fun to read! She is hilarious, and I find myself quoting her an awful lot...Is that weird?

5. What is your favorite non-teaching blog?


My favorite non-teaching blog is definitely The Vintage Apple. Michelle is hilarious! She also hosts a link up every Wednesday called Oh So Pinteresting Wednesday, where you post all of your favorite Pinterest finds for the week! Click on her button to check it out!
6. If you could go away on vacation, where would you go?


Another toughie! It would be a toss up between somewhere tropical like Bora Bora and somewhere in Italy, like Florence. I think I would have to go with Bora Bora though because a girl's gotta get a good tan! And I have already been to Italy.
7. Which blogs do you stalk routinely?


The blogs I stalk on a regular basis are:
A Teeny Tiny Teacher - Kristin is HILARIOUS. I would have to say that this is the blog that I keep up with the most!
A Cupcake for the Teacher - Teri has some really great teaching ideas that I have used in my own classroom. And I am envious of her blog design...would look good on mine don't ya think?
The First Grade Parade - Cara also has really great teaching ideas that I have used in my room! I love her Synonym Rolls activity!
First Grade Blue Skies - Jennifer has really great freebies, and an awesome TpT store!
8. What is your favorite subject to teach and why?


I love teaching Reading, which is weird because I have my Art minor so you think it would be art, but it's not, it's Reading! I just love watching the kids learn and grow as readers. I also love reading children's books, plus the best and most fun activities tend to be for reading!
9. What grade do you love teaching?

I love Kindergarten! My goal in my teaching career is to be a Kindergarten teacher. I am a Kindergarten aide right now, so I am halfway there.
10.What is your favorite animal?

I think I like penguins the best. They are too funny! And they melt my heart in the Happy Feet movies....so stinkin' cute!
Here is who I am tagging to answer my questions:
* Answer the 10 questions that the tagger posted for you
* Create 10 questions of your own to ask the people that you're about to tag
* Tag 10 people and link them with your post (and let them know they've been tagged!)
Here are my questionns girls! Answer them pleeeease :-)
1. What is your ultimate comfort food?
2. What is your favorite summer time activity and why?
3. What is your favorite movie of all time?
4. What is your favorite karaoke song to sing?
5. Would you rather go to the beach or to the mountains and why?
6. What is your favorite board game?
7. List 5 blogs that you love!
8. What type of pins do you repin the most on Pinterest?
(recipes, wedding ideas, teaching ideas, etc.)
9. What do you do to relax?
10. What is your favorite teaching blog?
Answer these questions on your post, then send the link back to me in a comment so I can read it!
Teri has 1,000 followers! I can only hope to have as many someday!
There are 10 prizes, 10 winners, and 10 ways to enter, so check it out!