Tonight I am linking up with Lory R. @
Fun for First
for an
You know you teach _________when...
Linky Party!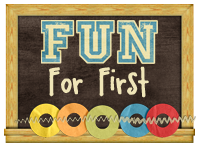 Everyone teacher has moments where they think "Only in (insert grade)". My moment is each day when the kids are constantly tapping on me to get my attention, and it is usually in the flabby part of my stomach! Haha I am not the Pilsbury Dough Boy and I am not going to say "Woooo Hoooo Hoooo Hoooo!" when poked in the stomach! My moment is something that happens on a daily basis and never fails to make me chuckle!
Link up with Lory and share your moment!