I am trying something different today! I'm linking up with Ashley @
Adventures of Newlyweds
for my very first edition of Friday letters!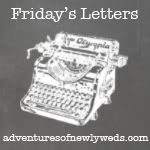 Dear Apartment
, please clean yourself. I can not keep up with all of your messes. There is too much stuff. I'm ready to live in a house.
Dear lesson plans
, please do yourself. I have worked on you all week and you're still not done.
Dear lesson plan format
, I have changed you 4 times now. Please be perfect this time like I want you to be.
Dear Luke Bryan,
thank you for shaking it for me last night on the CMA's. I can't wait for your concert in January!
Dear scale
, please be nice to me. I ate way too much candy this week. Your numbers can just go down already.
Dear bank account
, I am tired of worrying about you. Will you ever have enough money?!? Sometimes I wonder if you take my money without me knowing. Where does it all go?
Dear Daylight Savings Time
, aren't you supposed to SAVE the daylight? Why does it have to be dark when I go to work, and dark when I get home at night? Not a fan.
Dear followers,
thanks for being so great! I AM going to have a giveaway. I just can't decide what I want to giveaway, that is why it is taking so long!
Dear Friday
, thanks for getting here. I love you so!