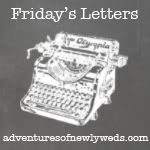 Dear weekend
, please don't go by too fast, I have LOTS to do!
Dear students
, you are awesome. Don't ever let me think any different.
Dear politics
, I am over you and your stress.
Dear parents
, I am jealous that you are in Florida with the warm sun and I am here in the cold with the clouds.
Dear Christmas
, OMG I can't believe it is already time to start thinking about you.
Dear car
, change your own oil.
Dear readers
, have a great weekend!